Welcome to Roberts Creek Well being - Health food store
Supporting Mamas & Children Holistically
Posted on July 04 2023, By: Cassidy Birch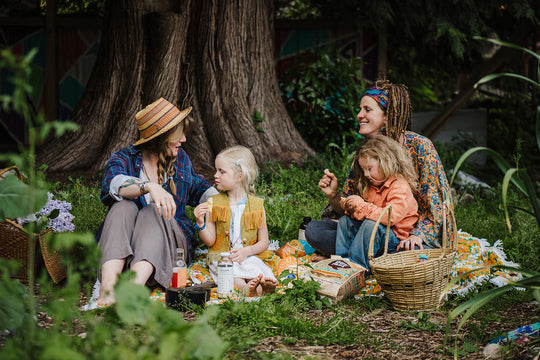 The health and well-being of mother and child are intricately connected:  one cannot thrive without the other.  So often, a mother's natural instinct is to put her family's needs before her own – but over time, this inevitably leads to depletion, exhaustion, and burnout.
The family unit thrives when both mother and child are nourished and rested, with each of their needs being fully met.  But when a mother removes herself from the equation, her inner resources begin to evaporate.  While self-sacrifice may seem noble at first, the greatest act of love is often self-care.  How can we show up fully for our families, and ourselves, when we're pouring from an empty cup?
When we begin to tend to our own needs, and nourish both our internal and external landscape, we create a sense of fullness that radiates out into the world.  We can shine our light, and pour our love, from an overflowing cup, and parent with more patience, stability, tenderness, and peace.  Finding avenues of self-support creates the foundation for a woman to more easily become the mother she wants to be.
Here at Roberts Creek Well-being, we offer a variety of products to support both Mother and Child; from herbal blends to soothe the nervous system and locally-made skincare for radiant skin, to organic purees for hungry tummies and a wide selection of children's vitamins.  In today's guide to Supporting Mamas & Children Holistically, we're so excited to share a collection of our favourite supplements, foods, and lifestyle products to nourish the whole family.


FOR MAMA


SUPPLEMENTS
Harmonic Arts Feel Calm Tincture – A calming herbal blend to relieve anxiety, promote daily relaxation, and support deep sleep.  Every mama deserves some calm in her life!
Amaya Mama Motherwort – Known as "The Mother's Huge" of herbs, this plant helps to ease anxiety, decrease blood pressure, and support the heart.
House of Origins Triple Rose – Rose is known to hold the highest frequency of all plants.  This blend delights the senses, opens the heart, attunes us to unconditional love, promotes deeper connection, and evokes a sense of divine sensuality.
Harmonic Arts Mushroom Tinctures – The benefits of medicinal mushrooms are vast, from supporting immune health and increasing energy, to encouraging cognitive function and alleviating stress.  And for the month of September (2023), all Harmonic Arts mushroom products are 15% off.  Come into Roberts Creek Well-being so we can help you choose the perfect mushroom for you. 
NOURISHMENT
Blossom's Raw Chakra Truffles – locally made on Cortes island, these invigorating raw cacao truffles uplift both energy and spirits, while supporting the various chakra systems.
Oat of the Ordinary Oatmeal Blends – who doesn't love a nourishing breakfast that's ready in 5 minutes?!  These locally-made instant oatmeal blends are low in sugar and contain superfoods and added protein, making a perfectly balanced breakfast for busy mornings.

Evive Smoothie Cubes – Packed with superfoods, fruits, veggies, and protein, these smoothie cubes can be blended with milk or added to smoothies to create an easy and nutrient-rich breakfast or snack.
Harmonic Arts Moontime Tea – a beautiful blend of healing herbs to promote hormonal balance, regulate the menstrual cycle, and ease premenstrual discomfort.  This tea belongs in every woman's pantry!
LIFESTYLE
Amaya Mama Skincare – Preserve radiance and hydration, soothe dryness and irritation, maintain oil balance, and protect your skin barrier with this lineup of locally-made products using a blend of nourishing oils and homegrown & locally foraged botanicals.  We love the Rose & Calendula Face Oil, Rose Hydrosol Spray, and Rose & Jasmine Body Oil.
Bear Essential Oils – These organic, wild-crafted, and ethically sourced essential oils can be diffused to bring harmony into the home, added to homemade cleaners and body-care products, or worn as a wonderful non-toxic perfume.
Fable Apothecary Goddess Bath Salts – Ease sore muscles and recenter the nervous system with a rejuvenating epsom salt bath bath soak.  Epsom salts are rich in magnesium to promote relaxation, encourage deep sleep, and relieve physical tension.  Fable Apothecary infuses essential oils like geranium, frankincense, and lavender for an enhanced soaking experience.
Vintage Clothing – Roberts Creek Well-being is proud to offer a seasonal selection of beautiful pre-loved clothing made with natural materials.  From flowy summer dresses and graphic t-shirts, to linen button ups and vintage denim, you're sure to find a special piece that makes you feel radiant for an affordable price!

FOR CHILDREN
NOURISHMENT
Love Child Organic Purees – ready to eat organic purees made with only whole-foods ingredients. These are a favorite!
Yum Earth Lollipops – finally, a sweet treat for little tummies that isn't loaded with sugar and artificial food dyes.  These lolli's are both mamma and child approved!
Deebee's Organics Superfruit Popsicles – Using 100% fruit puree with zero added sugars and free from the top 8 allergens, these popsicles serve as a wonderful treat for your little one come summertime 
Smart Sweets – kick sugar and keep the (occasional) candy with low sugar, high fiber candy that's made using natural ingredients and free from artificial colours, sweeteners, and flavors.  From peach rings and gummy bears to Swedish fish and sour watermelon slices, these treats are sure to delight your little ones.
SUPPLEMENTS
Flora Kids Multi – ensure your little ones are getting the full spectrum of vitamins and minerals with this comprehensive liquid formulation that includes antioxidants and botanicals to support immune health, digestion, and absorption.
Nordic Naturals Children's DHA – support your child's cognitive health and brain function with this wild-caught fish oil supplement.
Suro Elderberry Syrup for Children – Elderberry syrup has been used for centuries to treat coughs and relieve sore throats during cold and flu season.  This antioxidant-rich syrup is one of those remedies to always keep on hand!
Boiron Homeopathics – homeopathy is an alternative system of medicine based on the principles of energy and "like curing like".  There are a vast number of unique remedies available to treat a wide range of complaints, from physical ailments to mental / emotional conditions.  Homeopathy can be a wonderful tool for supporting children, and is generally considered a safe alternative to pharmaceuticals.
LIFESTYLE
Locally Made Soaps – these locally made (in Roberts Creek!) soaps come with a rubber ducky making bath time fun!
Think Baby SPF – with Summer fast approaching, the health of our little one's skin is front of mind.  This gentle, non-toxic formula is the perfect sunscreen for delicate skin.
Soft Soul Slippers – These small-batch Portuguese cork slippers are eco-friendly, vegan, and designed in Canada.  Their lightweight design mimics barefoot walking, supporting your child's balance and coordination as they grow.
Weleda Gentle 2 in 1 Shampoo + Body Wash – this organic, plant-based duo is made with natural botanicals and mild ingredients that are both gentle and safe for your little one's skin.  The 2 in 1 formulation cleanses and cares for both skin and hair all at once, making bath time that much simpler.
Written by: Hannah Schmitt