Welcome to Roberts Creek Well being - Health food store
Nourishing Lattes to Try This Winter
Posted on January 31 2023, By: Cassidy Birch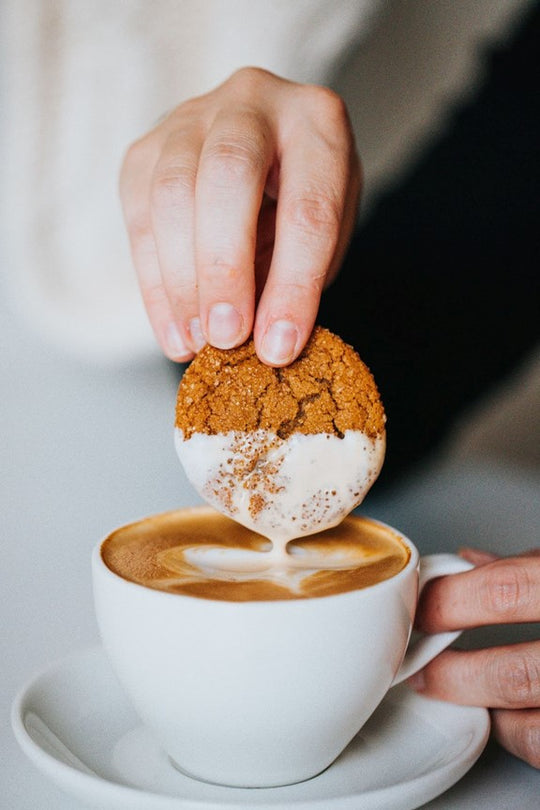 Swap out your daily coffee for a medicinal morning latte!  Functional lattes are more than just a pleasurable bubbly drink – they provide a variety of health benefits, from enhanced mental focus and sustained energy, to hormone balance and increased relaxation.
While coffee alone provides some health benefits, we can enhance the medicinal qualities of our morning drink by blending in supportive herbs, medicinal mushrooms, and adaptogens to create a latte that's both nourishing and delicious.
Functional lattes also act as a wonderful coffee replacement altogether, which can be supportive for those who find coffee to be over-stimulating, anxiety inducing, or irritating to the digestive system.
Below, we're sharing 5 Nourishing Latte Recipes to try this winter.  Each latte incorporates adaptogenic herbs and functional ingredients tailored to supporting optimal brain function, increased energy levels, and balanced mood.
These recipes can either be made in a small saucepan over the stove, or in a hot-water safe blender like the Vitamix.  If making over the stove, use a milk frother at the end to whip up the latte and create a foamy finish.
RISE AND SHINE CACAO – For Energy
1 tbsp Organic Traditions Cacao powder or 8-12 discs of BlossomsRaw Ceremonial Cacao

1 serving Harmonic Arts Cordyceps Mushroom

⅓ cup Cha's Organics full-fat coconut milk

¾ cup freshly boiled water
GUT-HEALING CAFE LATTE – For Gut-Health
1 tbsp Lee's Provisions Ghee

1 scoop Within Us Trumarine Collagen

1 cup of freshly brewed, hot coffee of choice (we like 32 Lakes Coffee Roasters, Beachcomber Coffee and Four Sigmatic)

Pinch of Organic Traditions turmeric powder
CREAMY COCONUT MATCHA – For Clarity & Focus
1 tsp Do Matcha Ceremonial Matcha or Harmonic Arts Matcha Mind


1 tbsp Artisan's Way coconut butter

¼ cup Cha's Organics full-fat coconut milk

¾ cup freshly boiled (then slightly cooled) water

1 tsp Elias raw honey 
SWEET DREAMS GOLDEN MYLK – For Relaxation
1 tsp Organic Traditions Turmeric powder

½ cup Cha's Organics full-fat coconut milk

½ cup freshly boiled water

1 serving Harmonic Arts Reishi

1 tsp Elias raw honey
CREAMY TAHINI CACAO – For Hormone Balance
1 tbsp Organic Traditions Cacao or 8-12 discs Blossoms Raw Ceremonial Cacao

1 tbsp Artisan's Way Tahini

1 tsp Organic Traditions Maca

1 tsp Uncle Luke's Organic Maple Syrup

1 cup freshly boiled water
Written by: Hannah Schmitt