Welcome to Roberts Creek Well being - Health food store
How to Have a Plant-Forward January
Posted on January 10 2023, By: Cassidy Birch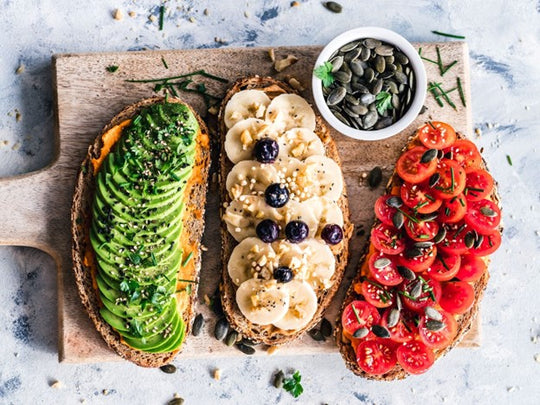 Plant-based January, otherwise known as "Veganuary", is a plant-based eating challenge that's grown in popularity over the years.  The premises?  To go an entire month without eating animal products. Veganuary encourages participants to question their regular eating habits, think outside the box, and get creative in the kitchen by substituting out traditional animal-based foods like meat, eggs, and dairy with vegan alternatives. The challenge aims to help participants eat more whole foods, reduce overall meat consumption, develop a love for plants, and become accustomed to eating in a way that's more sustainable for our planet.
While the idea behind Veganuary is great, eating 100% plant-based isn't realistic for many.  But even if we're not interested in giving up animal foods, it doesn't mean we can't begin to incorporate more plants into our diet.  Whole foods from the earth are packed with a variety of vitamins, minerals, and anti-inflammatory compounds that promote optimal health and well-being.  We can all benefit from eating more plants, no matter what diet you subscribe to!
Below, we've created a little guide to help you begin incorporating more plant-based foods into your lifestyle.  This January, we encourage you to get creative in the kitchen – and begin to see how delicious and nourishing plant-based foods can be, and how energized and vibrant eating more plants can make you feel.
Sneak vegetables into everything
Salads aren't the only way to get your daily intake of veggies.  It turns out, vegetables are way more diverse than people might believe!  Veggies can be added to pretty much every meal, from sweet and savoury breakfasts, to snacks and even desserts.  Consider adding grated zucchini or riced cauliflower to your daily oatmeal, or tossing in handfuls of leafy greens, celery, and cucumber into smoothies.  Turn pasta into a veggie-rich dish by sauteing extra chopped veggies into the sauce, and bulk up soups, curries, and chili with whatever veggies you have on hand.  Try a veggie-based dessert such as zucchini bread or carrot muffins.  Making scrambled eggs, pizza, or sandwiches?  Add veggies to these things, too!
Rotate in Plant-Based proteins
Protein is an important macronutrient that's responsible for a multitude of vital functions in the body, from building muscle, bones, skin, hair and all other body tissues, to creating enzymes and hormones, and helping us feel satiated after meals.  Aside from animal foods, protein can also be found in a variety of plant foods, such as beans and legumes, soy, nuts and seeds, and certain grains.  Adding in a vegan protein powder, such as Botanica Health's Perfect Protein or Hemp Yeah! Hemp Protein can be a wonderful way to help meet daily protein requirements.
BEANS / LEGUMES
Legumes are one of the best sources of plant-based protein, and as a bonus, they also provide a good dose of fiber to help keep digestion running smoothly.  Organic canned beans such as chickpeas, lentils, kidney, navy, and black beans are the perfect addition to creating super quick and easy meals, and you can also find them in other forms, too!  We love Chickapea and Bioitalia chickpea pasta, Eden Organics Refried Beans, and Amy's Chilli and Lentil Vegetable Soup.
TOFU / TEMPEH
We love Wildwood Organic Sprouted Tofu and Green Cuisine Organic Tempeh for adding to a variety of dishes, from stir-fries and soups to curries and nourish-bowls.  Sprouted tofu and tempeh can be marinated and fried or baked to serve as the main component of a meal, but also work as fantastic additions to any meal lacking protein.
GRAINS & NUTS / SEEDS
Certain grains, nuts, and seeds offer a generous amount of protein per serving, and work is excellent compliments when paired with bean dishes. Westpoint Naturals's Organic White Quinoa packs 6 grams of protein per ¼ cup, whereas GoGo Quinoa's Brown Rice & Quinoa pasta offers 8 grams protein per serving.  As for nuts and seeds, Manitoba Harvest Hemp Hearts provide 10 grams protein per serving, and Artisan's Way peanut butter contains 5 grams protein per 2 TBSP.
MEAT ALTERNATIVES
Sometimes it's fun to try plant-based meat alternatives that mimic traditional animal products.  Some of our favourites include Big Mountain Foods Mama Mia Veggie Links, Field Roast Plant-Based Burgers, Amy's Vegan Sweet Potato Pumpkin Mac & Cheese, and Pacific Foods Creamy Plant-Based Broths, which come in flavors like zesty ginger & turmeric, and herb & roasted garlic.
Experiment with dairy alternatives
There are so many fantastic dairy alternatives on the market these days, from plant-based milks and yogurt, to creamy vegan cheeses and spreads.  We love Yoggu's probiotic rich Greek-Style Coconut Yogurt, Spread Em Kitchen's Smooth and Creamy Cashew Cheese Block, Spread Em Kitchen's Plant-Based Cream Cheese, and the large variety of almond, coconut, and oat milks from Earth's Own and Silk.
We hope this guide to plant-based eating inspires you to get creative in the kitchen, and work towards a Plant-Forward January – and potentially the rest of the year!  Come into Roberts Creek Well-being to shop all of the products listed above.
Written by: Hannah Schmitt