Welcome to Roberts Creek Well being - Health food store
How to Build a Nourishing Holiday Charcuterie Board
Posted on November 24 2022, By: Cassidy Birch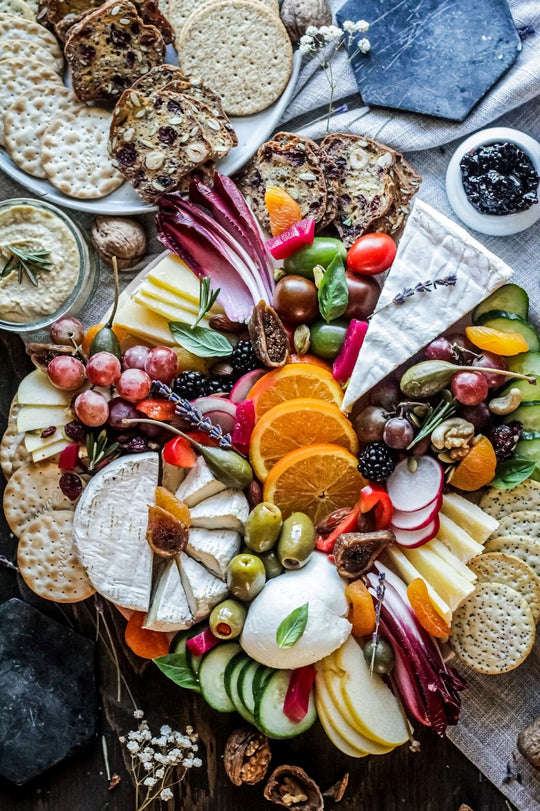 How to Build a Nourishing Holiday Charcuterie Board
One of the most beautiful ways to foster a sense of connection during the holidays is by sharing delicious food with the people we love. Celebrate this holiday season with a DIY Nourishing Holiday Charcuterie Board.  They're simple to make, beautiful to serve, and fun to share with others!
Our take on a Holiday Charcuterie Board is one that's filled with whole-foods, nourishing ingredients, and local products.  Come into Roberts Creek Well-being to gather up all the ingredients you'll need to create a beautiful and delicious charcuterie board that will delight your loved ones this holiday season.
Step 1 – Gather Your Ingredients
Below, we've created a little guide with the most important components to include in your charcuterie board.  You can find all of these products in store at Roberts Creek Well-being!
Cheeses & Spreads 
Spread Em Kitchen's

Meadow Cashew Cheese Block is our go-to plant-based cheese for making beautiful charcuterie boards.  It's creamy, flavourful, and finished with edible flower petals for a whimsical touch.

Spread Em Kitchen'

s Cashew Cream Cheese is perfect for spreading on crackers, and comes in flavors like Chives & Garlic, Dill Truffle, Turmeric & Black Pepper, and Jalapeno Lemon.

Woolwich Dairy

offers a selection of pure goat's milk cheeses made with fresh Canadian goat's milk.
Nuts – We love Prana Organics wide selection of nut mixes (which include dried fruit and chocolate, too!). Elan Organics offers beautiful flavoured nuts such as matcha almonds, acai blueberry cashews and maca cashews!

Crackers – Mary's Crackers are the perfect wholesome & seedy cracker for any charcuterie board (and they're gluten free).  We especially love their Thin Sea Salt cracker!
Dried fruit – West Point Natural's is our go-to for organic dried fruits such as figs, dates, papaya, and banana chips.

Dips – Spread Em Kitchen offers a large selection of cashew-based dips that make the perfect charcuterie board addition.  Flavors include Garlic Tzatziki, Beet & Balsamic, Carrot & Chili, and Spinach & Artichoke, Dill & Truffle, Jalapeno Lemon, and Lemon Turmeric.  We love Sunflower Kitchen's clean Hummus with minimal ingredients and a homemade feel.
Cut veggies – We offer all Organic veggies so, think carrot sticks, bell peppers, cucumber slices, snow peas, and microgreens.
Berries – Grapes, blueberries, strawberries, blackberries, raspberries, apple or grapefruit wedges, and mandarin orange slices all pair nicely.
Jams & Chutneys - Sunshine Coast local company The Farm makes delicious homemade jams in an array of creative flavor combinations, such as Strawberry Earl Grey, Bourbon Apple Pie, and Quince Cardamom Rose Butter. Love the Grub's Pear Walnut and Blueberry Sage chutneys are the perfect sweet and savory combination, and pair wonderfully on a cracker with cashew or goat cheese.
Pickles – We like Klippers Organics spicy dill pickles.
Fermented Veggies – Our favorite's are Karthein's Organics and Wildbrine sauerkraut!
Chocolate – We love Arriba Raw locally made raw chocolate bars and peanut butter cups, or Viva Cacao's festive chocolate Bark and superfood infused chocolate bars.
Pierogies – Mama Musey's perogies are a fun charcuterie addition to take your board to the next level.  As a bonus, they're made fresh right here in Roberts Creek on the Sunshine Coast!
Kombucha – Complete the experience by pairing your charcuterie with some bubbly and refreshing Kombucha.  Come into Roberts Creek Well-being to shop our wide selection of Kombucha and water kefir from companies like Rise, GT'S, Raincoast, Brew Doctor, and Coastal Cultures.
Step 2 – Choose your Vessel
How you serve the charcuterie will depend on what serving vessels you have on hand.  We recommend a wooden serving board or large ceramic platter, but a clean cutting board or parchment paper taped to the table works too!
Step 3 – Assemble Your Spread
Start with the largest components first, then work your way backwards.  Lay out bigger items (like cheese rounds and bowls filled with various dips) evenly across the board, making sure to leave adequate space in between.  Then, fill in the empty spaces with smaller items like nuts, crackers, chocolate squares, and fruit.  Finish with a sprinkle of microgreens or edible flowers. Use your creativity, and have fun!
Step 4 – Serve, and enjoy!
Set the mood with candles, incense, and your favourite holiday tunes.
Written by: Hannah Schmitt