Welcome to Roberts Creek Well being - Health food store
We carry a large variety of health and wellness products in our retail store, so if you don't see something that you're looking for in our online store, come on in or email us to add it to your online order.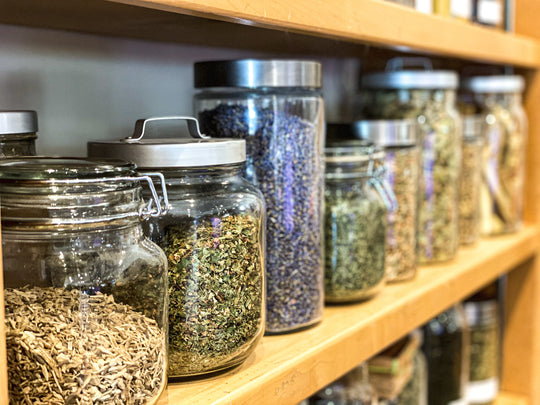 Retail Store Stock List
BATH & BODY
Modern Hippie Inc. 
 Locally owned: Cleanser, Toner, Serum, Eye Cream, Mask, Body Polish, Lip Lotion, Pit Paste, Solid Dish Soap.
Healing Scents
 Essential Oils (Blends only) Locally owned- (Gibsons)
Bear essential oils
Single oils, all organic/fair trade/locally grown. Indigenous-owned in Black Creek, B.C
Soap Maker Christie Woodlin 
Made in Roberts Creek: We always have 10-20 different scents in stock
The Future is Bamboo Toothbrushes 
Carina Organics: sweet pea/unscented shampoo, conditioner, body wash, hair spray, Vancouver Based.
Routine Deodorant
Giovanni Shampoo/Conditioner
Copper tongue scrapers (made in Victoria)
Lavilin Deodorant
Weleda body oil, deodorant, baby care
Halo Healing - Bath Soaks + body sprays
Soak and Sea- bath bombs, bath soaks, bubble bath, hand sani, kids calm spray
Natracare- Organic Pads, tampons, nursing pads
Diva cup
Jem's Condoms 
Dr. Bronner's Toothpaste
Auromere toothpaste
Bkind Konjac facial sponge
Anointment Organic baby powder + baby skincare kit
Everyman Jack Deodorant 
 
 VITAMINS & SUPPLEMENTS

Prairie Naturals  Vitamin D, Liquid Vitamin B, Vitamin, Quercetin, Multi-Vitamin, enzymes
AOR   B-complex + Super Focus, Magnesium, Orthosleep, Thyro Support, C + bioflavonoids, B12
Harmonic Arts  Elixirs, concentrated mushroom powders + tinctures, teas
Host Defense Mushroom capsules
Botanica Herbal blends, Liquid herb capsules, protein powder
Garden of Life Probiotics, multivitamins, plant-based protein powders, B Vitamins, wild rose to cleanse- Trophic brand
NOW brand amino acids, minerals, single vitamins, coenzyme q10 
Orange Naturals Magsleep, Magnesium bisglycinate, iron
Organic Traditions herbal powders 
Provita  Sierrasil, magnesium threonate, black cumin & migraine
Nordic Naturals  Omega-3, Ultra omega, Cod liver oil, algae omega
Benesse Collagen 
Flora  Flax oil, Floravit, floradix, stress Veda, beet crystals, shelf-stable probiotics
Genestra Melatonin, probiotics
Boiron  Homeopathic blends or single remedies
Absorb it all Locally owned- colloidal silver spray, magnesium spray, copper spray and vitamin d drops
Quantum Thera zinc, super lysine 
Milkin' More Breast milk supply supplement

KITCHEN & PANTRY

The Farm West Sechelt Jams
Arriba raw chocolate & Better Butter Nut butter 
Spread em' Cashew dips
Mamma Musey Pierogis 
Seafoam Granola, adapt & flow powder
Chickapea Pasta
Konjac root Pasta
Amy's Organic soups
Annie's Homegrown Pasta/kids crackers
Mary's organic crackers
Beanfield's Chips
Nooch Pop Popcorn
Barbara's Bakery Cheese puffs
Earth's Own Oat milk + chocolate
Kiji Organic Juices
Katherines Sauerkraut
Hornby organic bars
Nori Seaweed snacks, + Seasnax seaweed
Prana Organic nut mixes
Little creek salad dressing 
Lundberg Rice
Koyo Ramen noodles
Smart sweets
Rise Kombucha
Avalon organic milk
Rabbit River eggs
Wildwood Tofu
Bob Redmill Oats
Love Child Organics Fruit/veg puree + Cookies
Panela Lemon Vegan Cookies (made in Vancouver- small batch)
Buck Plant-based, gluten-free/Vegan ice cream
JEWELRY & GIFTS

Jay Eckhardt Glass Pipes (made in Tsawwassen B.C)
Canvas Candles
Honey Candles
Halo Healing Smudge sticks/ chakra candles
Joleen Sohier Jewelry- rings/necklaces
Jewelry by Emilita Anklets
Flora and Forest Rings/ necklaces
Books!
Kimberly Francis wood carving (Made in Roberts Creek)
Kanga + Roo scrunchies 
Shey Smith Handmade clay mugs (made here in RC)
Soft Soul baby shoes (made in Vancouver)
Keylett  Wristlet keychains
Elaine Markell  Sea Glass Art (made in Sechelt, B.C)
Cindy Richard Mosaics (Made in Sechelt BC)
Cards- (All Local people) Shel Neufield, Kandice Keith, Pat Ridgeway, Roberta Manuel)
HOME ESSENTIALS

Bare Home Dish soap, laundry soap, all-purpose cleaner and two scents of hand soap also available in bulk
Nellies Laundry + dish soap
Modern Hippie Dish Soap
Canvas Candles
Honey Candles
Caboo Bamboo toilet paper, paper towel and kleenex
Eco-living Club laundry sheets
Happy Tails cat + dog food
Dr. Bronner's products
West Point Epsom salts
Fable Apothecary Room Sprays (locally  made)
Danica- An assortment of artist made dishes, lunch bags/totes , Swedish dish cloths, rugs, and much more home décor!