Welcome to Roberts Creek Well being - Health food store
Six Supportive Herbs for Fall
Posted on November 02 2022, By: Cassidy Birch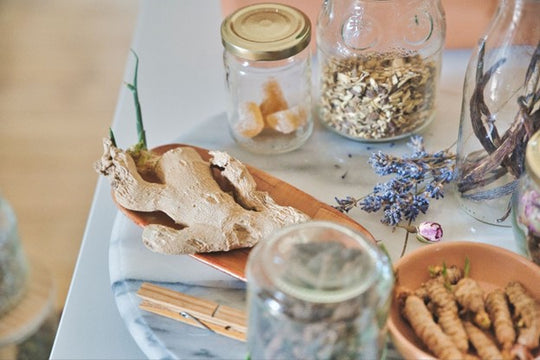 Plants are here to support us as we journey through the fall and winter months.  Plants offer deep nourishment, rebalancing the body during times of transition, change, sickness, stress, and imbalance.  Turn to the following herbal allies this season to receive support, nourishment, warmth, and healing throughout the colder months ahead.
Pop into Roberts Creek Well-being to shop a wide selection of organic loose leaf herbs in our bulk herbal apothecary.
NETTLES - "Revered as Nature's Multivitamin", stinging nettle provides a rich source of minerals to build resilience and support the immune system.
ELDERBERRIES - Elderberries have long been used to protect against colds and flus due their high levels of antioxidants, Vitamin C, and immune supportive properties.
MULLEIN - Mullein supports the respiratory system to provide relief from coughs and lung congestion by encouraging the body to expel excess mucous.
HAWTHORN - Hawthorn combats the chilly weather Autumn brings by improving circulation, and increasing blood flow throughout the body.  This herb can be especially helpful improving circulation for those prone to cold hands and feet.
OATSTRAW - Oatstraw is building, grounding, nutritive, and soothing - all important qualities to cultivate in this often energetically draining time of year. Nourish the nervous system and promote relaxation with this supportive herb.
GINGER - Ginger's warming, stimulating properties counterbalance the damp coldness of fall.  In addition to improving circulation and increasing internal heat, ginger stimulates the immune system to perform optimally in the winter months.
How to Make a Herbal Infusion
One way to incorporate herbs into your daily routine is through a herbal infusion.  Herbal infusions are similar to herbal tea, but steeped for longer periods of time to draw the full spectrum of vitamins, enzymes, and aromatic oils out of the herbs.  By steeping our herbs overnight (or for a minimum of four hours), we allow the plant's nutrients to fully infuse into the water to create a medicinal dose.
To make an herbal infusion, place a small handful (1-2 tbsp) of dried or fresh herbs in a glass french press or mason jar.  Top with freshly boiled water, and cover with a lid to ensure the nutrients don't escape in the steam.  Let steep on the counter for 4-12 hours, strain, then sip throughout the day.  Leftovers can be stored in the fridge for 1-3 days.
Written by: Hannah Schmitt
Instagram: @wholisticallyhannah_